Making a place plan (steps 5-8)
Step 5: Conduct place evaluation workshop
Based on the simple power of observation, the Place Evaluation Workshop makes the most of participants' special knowledge, common sense, intuition, and input. Stakeholders can quickly sum up the good and bad qualities of a site, and ignite a creative process about transforming an ordinary place into an extraordinary community asset. Any observant person can do a Place Evaluation, from children and lay people to highly trained professionals. The exercise also works in a range of situations, from informal groups or small planning teams to workshops and conferences with as many as 200 people. Best of all, the Place Evaluation Workshop is fun: participants get to know each other better, while gaining insight on ways to look at public spaces more holistically and see their potential as "places" in communities.
Place evaluation workshop
Download the sample placemaking forms for examples of Letter of Invitation, Invitation Flyer, Workshop Checklist, Agenda, Place Evaluation Game, Conducting a Placemaking Evaluation, Base Map, and Visual Concept Plan
As noted in Step 2, it is very important that workshops be organized in cooperation with interested Stakeholders. It is usually effective for a local group—a nonprofit or neighborhood association—to coordinate the logistics of the workshop, with support from the alderman. Such an organizing strategy ensures community participation in greater numbers than if the event is organized by local government in the formal setting of City Hall. Yet, including local officials in both the workshop and process in general is paramount to the project's success.
The Placemaking process is both transparent and inclusive, so individual residents, community groups, business owners, nonprofits, and local government, along with planners and design professionals, can participate equally and in a meaningful way to make their community better.
In general, a Place Evaluation Workshop includes an overview of the targeted location and interactive site evaluation. For more information on preparing and running a Place Evaluation Workshop, please download the sample placemaking forms.
Step 6: Translate ideas into action with a working group
Several good ideas will come out of the workshop with your assembled stakeholders, many of whom will be excited by the possibilities for the space they've just evaluated. The next step is to ask for volunteers—preferably, a mix of the most enthusiastic and influential people—to become members of a working group. Often, it is even better to establish the working group in advance and get their help organizing the workshop.
The purpose of the working group is to review the evaluation and ideas that were generated, solidify these ideas into a vision, and develop more specific recommendations. The working group should include a strong point person to lead the efforts.
It should identify a problem statement and create an action plan to address this problem.
Step 7: Develop a visual concept plan
The next step in the process is to produce what PPS calls a "Visual Concept Plan." Because public spaces are so visible, it is important to implement even short-term improvements to make them attractive and functional.
Developing a visual concept plan may seem like something that requires hiring an architect, but there are many ways you can design a simple space yourself, with people who have a good eye for what makes a space both appealing and useful. You can even cut out pictures to use as illustrations if no one in the group can draw. For example, in Tabor, Czech Republic, the local Placemaking group came up with the idea of re-opening a boat rental. Rather than just hang a sign on the old boat house, they were inspired by the work of a Czech artist who painted imaginary city scenes with bright colors. The project manager's husband was an architect and together they used the artist's approach in deciding how to paint the building. The painter was invited to the opening of the boat house—he said it was like being in one of his own paintings! People were much more attracted to using the boat rental because of its special character.
Step 8: Create a summary report and presentation
Write a short report that summarizes the result of the Placemaking Workshop, working group sessions, and follow-up Visual Concept Plan. The report should build on the workshop result summary and vision statement, adding specific short and long-term ideas, priorities and partners. You can use the concept plans to illustrate the report. The report also should feature ideas that were not shown on the plan, as well as information such as a list of ideal partners, proposed short-term budget, and well-thoughtout financing plan.
Finally, with further time and resources, you can consider creating a presentation of the summary and recommendations, which could be a poster, slide show, Web site, or other visual format. Think of a presentation as a visual tool that can be used to market your public space improvement efforts to potential partners, political supporters, funders, and community residents.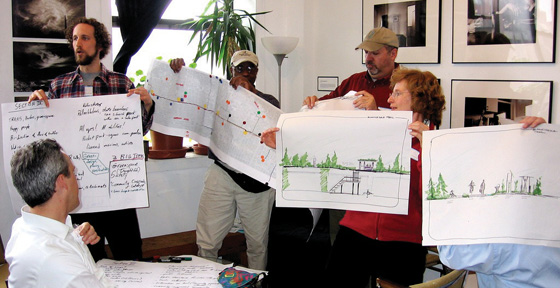 Making a place plan (steps 5-8)